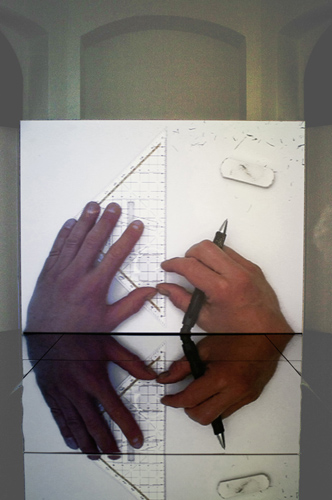 under construction
Installation, 24 x 24 x 5cm, digitales Video, PAL, Farbe, Ton, Loop (720:00 min)
2009 – 2015
'under construction' ist eine Videoarbeit mit einer Dauer von 720 Minuten (12 Stunden), endlos geloopt. Zu sehen sind Hände, die auf einer weißen Fläche mittels Geo-Dreieck und Druckbleistift zuerst ein Rechteck bestimmter Größe konstruieren, anschließend das Gezeichnete wieder ausradieren. Das Prozedere des Messens/Zeichnens und Radierens dauert genau eine Minute, wiederholt sich 720 mal, wobei das Rechteck (der Minutenzeiger) immer leicht versetzt an anderer Stelle des Papierblattes konstruiert und zu einem zweiten, bereits vorhandenem Rechteck (dem Stundenzeiger) stets neu in Beziehung gesetzt wird.
installation, 24cm x 24cm x 5cm, digital video, PAL, colour, sound, loop (720:00 min)
2008 – 2015
'under construction' is a video installation with a duration of 720 minutes (12 hours), looped endlessly. On display are hands on a white surface, using a right angle triangle and a mechanical pencil in order to construct a rectangle of a certain size, which is erased afterwards.The procedure of measuring/drawing and erasing takes just a minute, is repeated 720 times.The rectangle (the minute hand) is always constructed slightly shifted on the sheet of paper, which thereby is always set in new relation to an already existing rectangle (the hour hand).