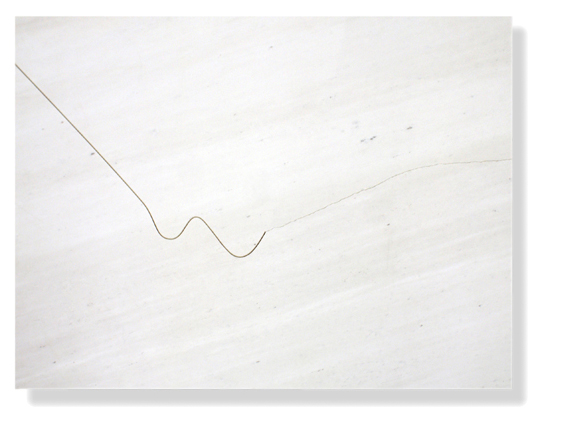 breaking myself
Thassos Marmor, 150 x 112,5 x 2cm
2010, 2014 (laufend)
Eine weiße Marmortafel wird entlang einer bestimmten Kurve geschnitten und schließlich bewusst gebrochen. Die Kurve spiegelt Reinthalers Performance im internationalen Kunstbetrieb wider (artfacts.net), im Zeitraum von Jänner 1998 bis Oktober 2014.
white marble, cut and broken, 150cm x 112,5cm x 2cm
2010, 2014 (continous)
'breaking myself' is a work made of greek marble, always produced anew when the broken -and by this devaluated- tablet is being bought or exhibited. This is the moment when the curve that is cutting through the material is actively being manipulated and Arnold Reinthaler is positioned anew in an international ranking of artists (artfacts.net). This present tablet -made in 2010- shows the graph beginning on the left in 1998 (Diploma year, entering the "operating system" of art at around position 5.000) leading to the current position (26.791) in the middle, and counting. The continuously growing cut through the stone makes the material more and more fragile and is the reason for the breaking. The appearing break line predicts the progress of the artist's career until the year 2021, his 50th birthday.