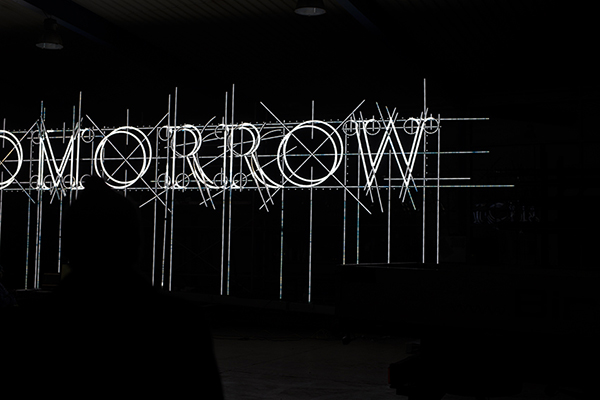 TOMORROW
Installation, LED-Konstruktion, 14 x 4 x 0,4m
2016
Mariahilfer Straße 1, Wien. Am Dach der Industriegruppe "Montana Tech Components" installiert der Bildhauer Arnold Reinthaler eine künstlerische Arbeit, die auf das dort ansässige Unternehmen Bezug nimmt. Zu sehen sind Konstruktionslinien einzelner Buchstaben, wie sie der vom schwäbischen Kaufmannsgeschlecht stammende Schreibmeister Wolfgang Fugger im Jahr 1553 gezeichnet hat. Zusammengesetzt ergeben sie den Schriftzug TOMORROW. Ausgeführt als eine Installation von dreidimensionalen Leuchtstäben, zeichnet und dekonstruiert sich der Zukunftsbegriff laufend selbst, so lange, bis kurz vor Mitternacht TOMORROW annähernd zur Gänze lesbar sein wird. Schrift und Schriftträger verschmelzen zu einer Zeichnung im Hier und Jetzt. Im unentwegten Arbeiten am utopischen Begriff TOMORROW werden Fragen nach dem Handeln inmitten der Gegenwart neu verhandelbar.
installation, LED-construction, 14m x 4m x 0,4m
2016
Mariahilfer Straße 1, Vienna. On the roof top of the industrial group "Montana Tech Components", sculptor Arnold Reinthaler installs an artistic piece of work referring to the company based at this address. One can see construction lines of individual letters, as drawn by writing-master Wolfgang Fugger, member of the Swabian Fugger family of merchants, in1553. Put together they constitute the word TOMORROW. Realised as an installation of three-dimensional light staffs, the future-oriented term continuously draws and deconstructs itself till, shortly before midnight, one can almost entirely read the term TOMORROW. Writing and writing surface melt into a drawing in the here and now. The ongoing work on the utopian term TOMORROW allows to renegotiate questions of one's actions in the midst of the present.